We're fortunate to have some very talented singers from the University of Texas at Arlington in the Chancel Choir here at First UMC Arlington, as their voices enhance worship each Sunday. Sean Hale, Director of Music and Worship has worked with students for a number of years as part of the music ministry. "We offer a 'home away from home' for the students," he said, "as we offer our love and support."
The student singers receive scholarships while they are here, and a benefit concert held on September 26, 2021 in honor of the late Stuart Shipley, former choir member and band teacher, raised $1000 for the scholarship fund. Current and former scholarship singers performed, accompanied by Dr. Jamila Javadova-Spitzberg and Arthur Busby. Former scholarship singers Alexis Galindo, mezzo-soprano, and Cesar Vélez, tenor, now have careers in local school districts spoke about their time in Chancel Choir. "I grew musically and spiritually," Vélez said, thanking both Hale and the choir members for their support.
The three current UTA singers, Chyna Dillard, soprano; Ariel Hernandez, soprano; and Killian Watt, baritone, are part of weekly rehearsals and worship leadership with Chancel Choir, and frequently perform solos. Hernandez also fills in with conducting.
Students receive scholarship funds from the church budget and gifts from members and supporters. If you would like to make a contribution, email Sean Hale or call the church at 817-274-2571.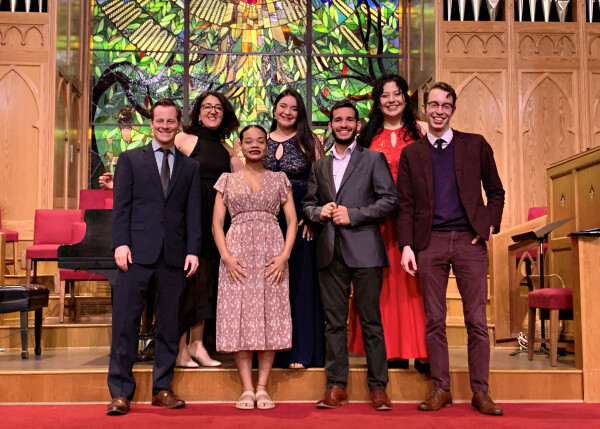 Bottom row, from left: Sean Hale, FUMCA Director of Music & Worship; Chyna Dillard, current UTA scholarship singer; Cesar Vélez, former UTA scholarship singer; Killian Watt, current UTA scholarship singer
Top row, from left: Dr. Jamila Javadova-Spitzberg, FUMCA organist; Ariel Hernandez, current UTA scholarship singer; Alexis Galindo, former UTA scholarship singer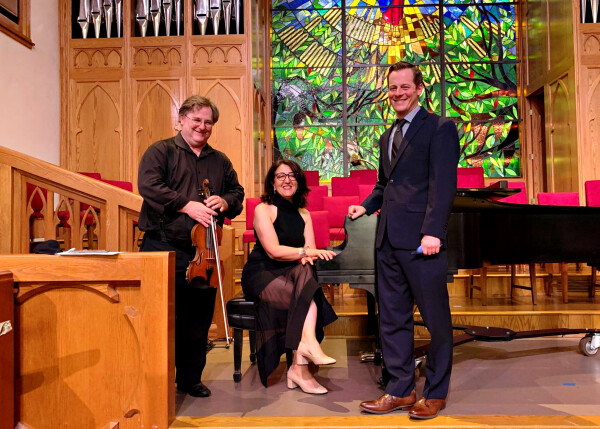 From left: Arthur Busby, violin; Dr. Jamila Javadova-Spitzberg, piano/organ; Sean Hale, Director of Music & Worship