During this season of Lent, we will look at the lives of forty-six saints and how they lived their lives in a way that showed God's face to the world around them.
As we learn more about these historical (and legendary) figures together, we should ask questions like:
How is this person's life like my life, and how is it different?

How did this person encounter God on their journey, and what made them decide to live a life that honored God?

How did this person's life honor and glorify God?

What was this person's mission? What were their acts of service?

How did this person love God and love their neighbors?

Is there anything about this person's story that I find encouraging?

Is there anything about the way that this person lived their life that can help me live my life in a way that honors and serves God?
It is important to ask these questions because the season of Lent – the forty days and six Sundays leading up to Easter – is a time for reflection. We can reflect on the lives of some great Christians who came before us. We can also reflect on our own faith, and our own Christian journey. Finally we can reflect on the many ways we can grow our faith and strengthen our relationship with Christ in the future!
Here's another thing to think about as we reflect on the lives of saints and journey through the Lenten season this year: most saints are ordinary people who do extraordinary things through the love of God. As we learn more about the saints, it will become clear that:
Saints

are filled with the love of God and a love for God. They have made a commitment to God and because of this they choose God above all others.

Saints

love others. It cannot be any other way.

Saints

are risk-takers. When God called, they answered. They trusted God to lead them on their journey and they responded to the graces that were given to them. They served God with all their hearts.

Saints

are humble. They used whatever gifts they had been given and acknowledged that what they knew was nothing compared to the infinite wisdom of God.

Saints

are people of prayer. They found their time with God to be both necessary and valuable.

Saints

are not perfect. They are human and have flaws and faults. They made mistakes. Still though, they trusted that despite wrong turns and setbacks God would be faithful to them on their journey.

Saints

are people of their times. When we look at the lives of

saints

today, it's easy to point out where we might have done things differently. It's easy to ask why they didn't fight for change or help more people. Finding fault is easy, but it's important to remember that the

saints

were working toward exactly the same thing we are today: as perfect a love as possible. This should give us courage and hope!
Simply put, saints are people who love the Lord with all their hearts, souls, minds, and strength. They didn't become saints because of any great deed or act that they performed on their own but rather by loving God and trusting enough to allow God to work through their lives. There are saints among us today, right now! There are people all around us who make the choice every day to love God, serve God's people, and live out Paul's words:
"If I speak in human and angelic tongues but do not have love, I am a resounding gong or a clashing cymbal. And if I have the gift of prophecy and comprehend all mysteries and all knowledge; if I have all faith so as to move mountains but do not have love, I am nothing. If I give away everything I own, and if I hand my body over so that I may boast but do not have love, I gain nothing." 1 Corinthians 13:1-3
Lenten Saints Bracket
Vote for your favorite saint during Lent! Polls will be on our Facebook and Instagram stories.
Lenten Saints
We'll be posting "trading cards" of a different saint each day during Lent as well as daily prayers and challenges. Follow along on this page or on Facebook and Instagram. You can download a printable PDF of the cards at the link below.
Day 1: St. Peter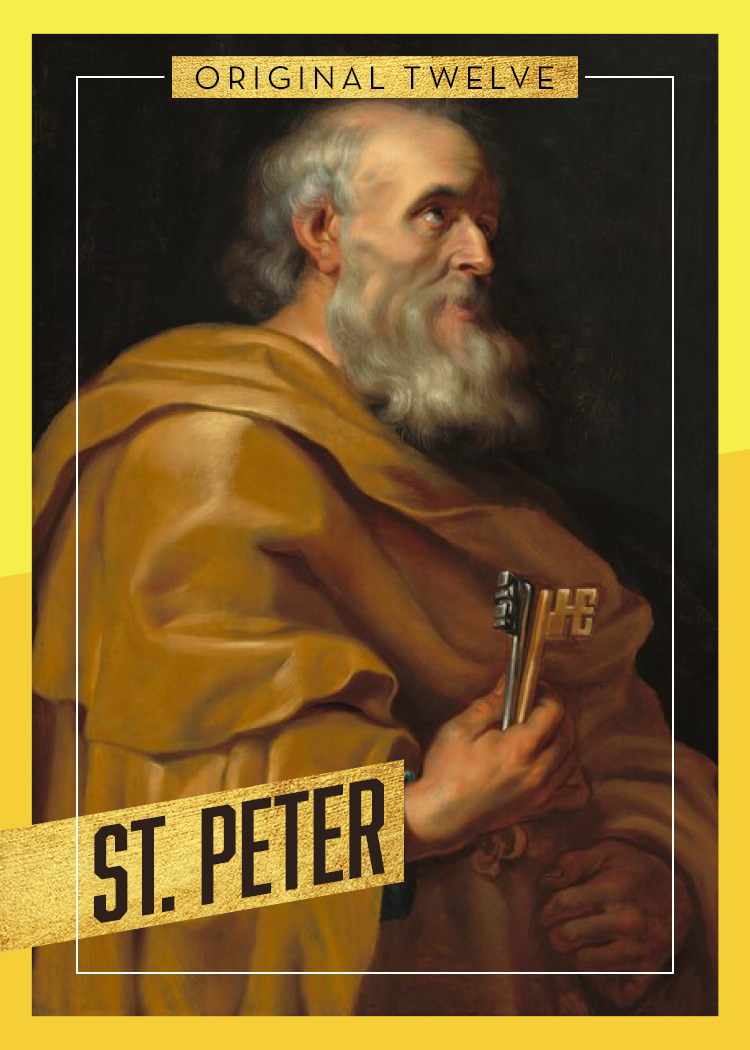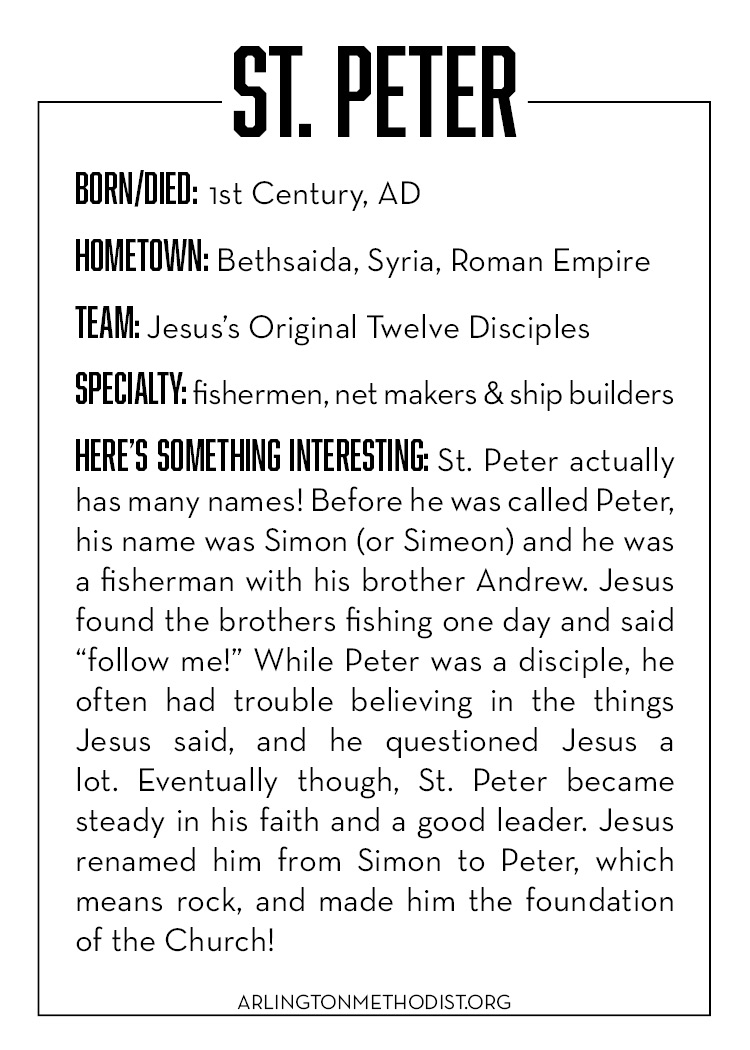 Prayer: Lord, I have stumbled and every time you have helped me get back up. I have had trouble believing and you have patiently waited for me to find my way back. I have asked questions and you have helped me find the truth. Thank you for your steady guidance. Amen.
Challenge: Find someone whom you trust and ask them about their faith. Ask them about their perspective on the Bible, about their relationship with Jesus, and about how they connect with God.
---
Day 2: St. Francis of Assisi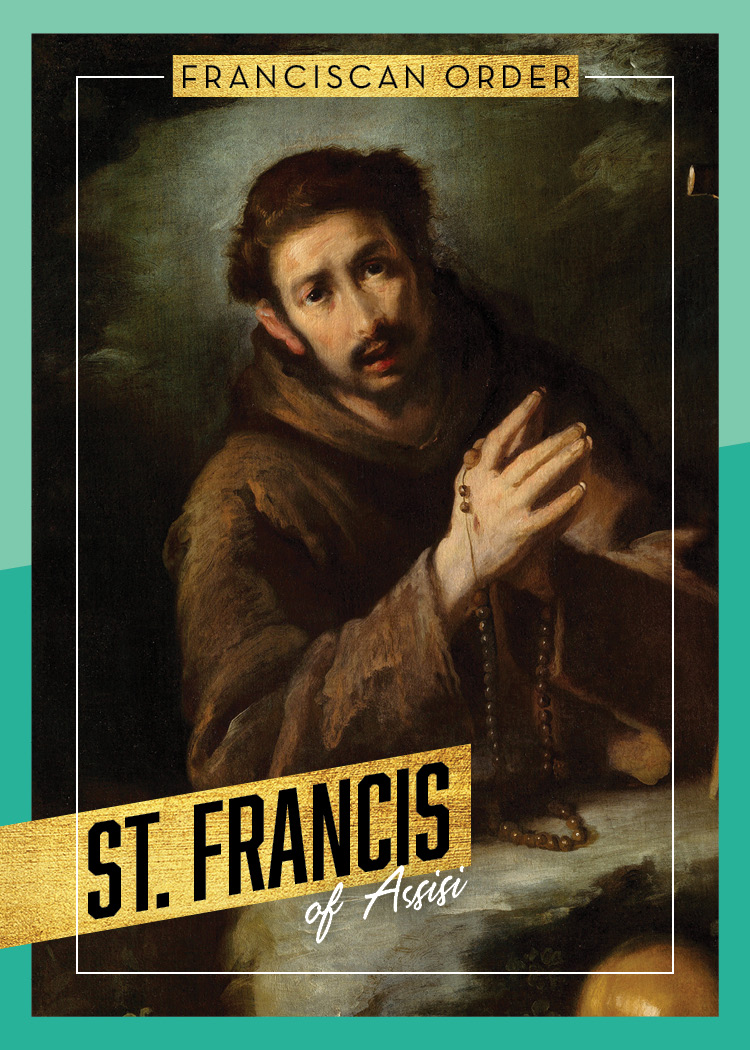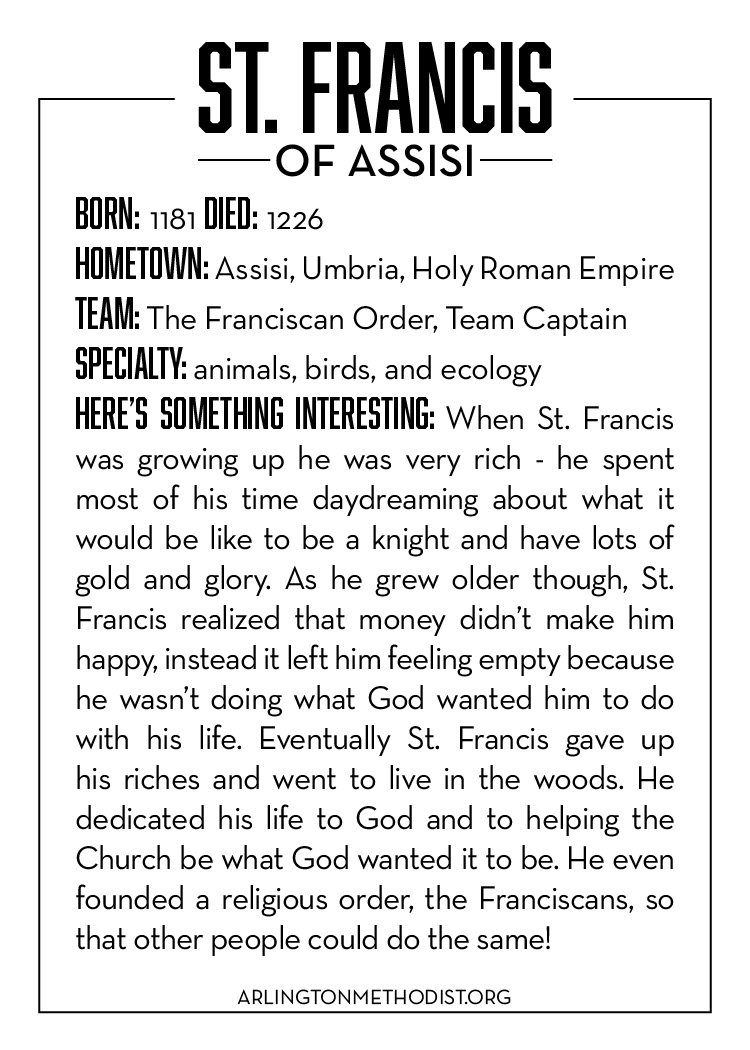 Prayer: God of Creation, your world is so great! Your love flows through this planet and I want to celebrate you forever because of it! Help me to be a better steward of the precious plants and animals that you have placed me in charge of. Amen.
Challenge: Today, take a walk around your neighborhood. Enjoy the sights and the sounds around you, and if you see any trash or litter, pick it up! Take a picture along your way and share it with us. If you'd like to go the extra mile, consider collecting pet food, clean towels, and pet toys and delivering them to the nearest animal shelter in honor of St. Francis
---
Day 3: St. Clare of Assisi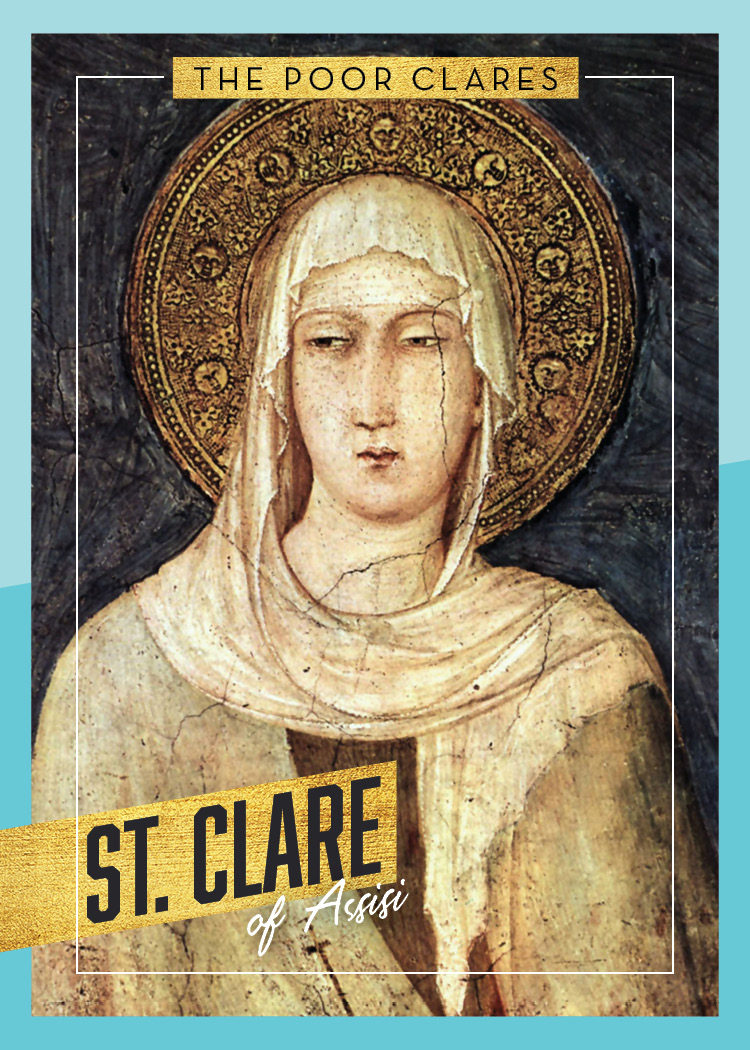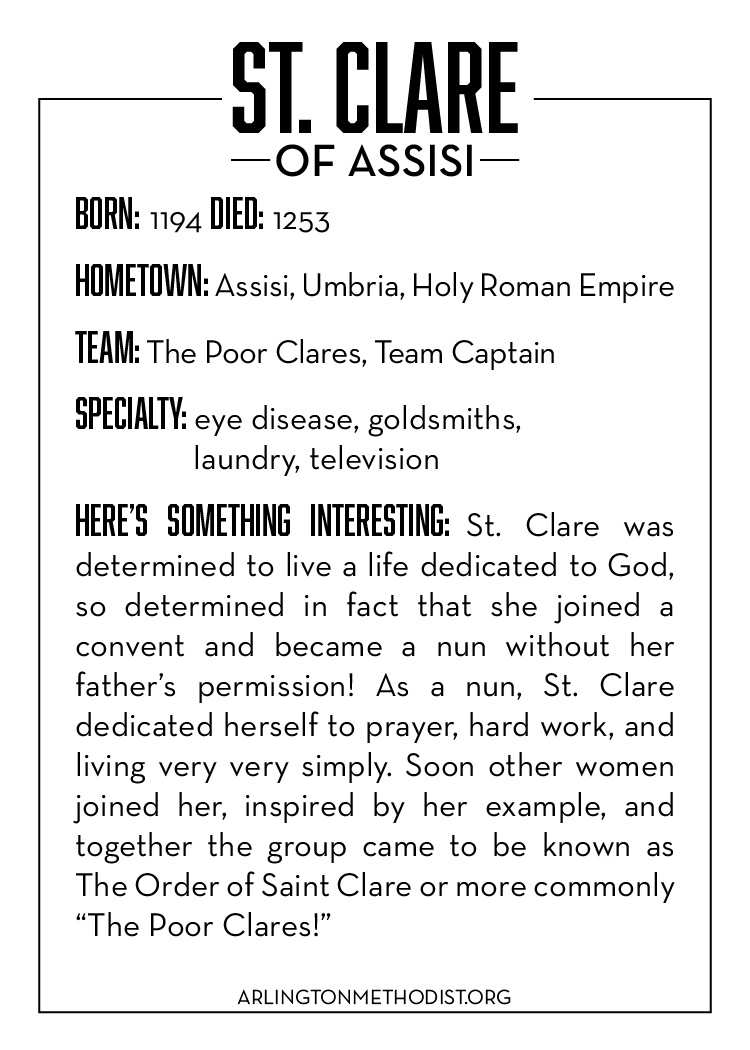 Prayer: Providing God, thank you for the friends that you have surrounded me with. I am so glad that I don't have to go through this world alone, and that my community is around me. Amen.
Challenge: Today, try writing down your prayers. Write down what's on your heart and what you want God to know. Don't worry about making your words pretty or your thoughts organized!
---
Day 4: St. Dominic of Guzman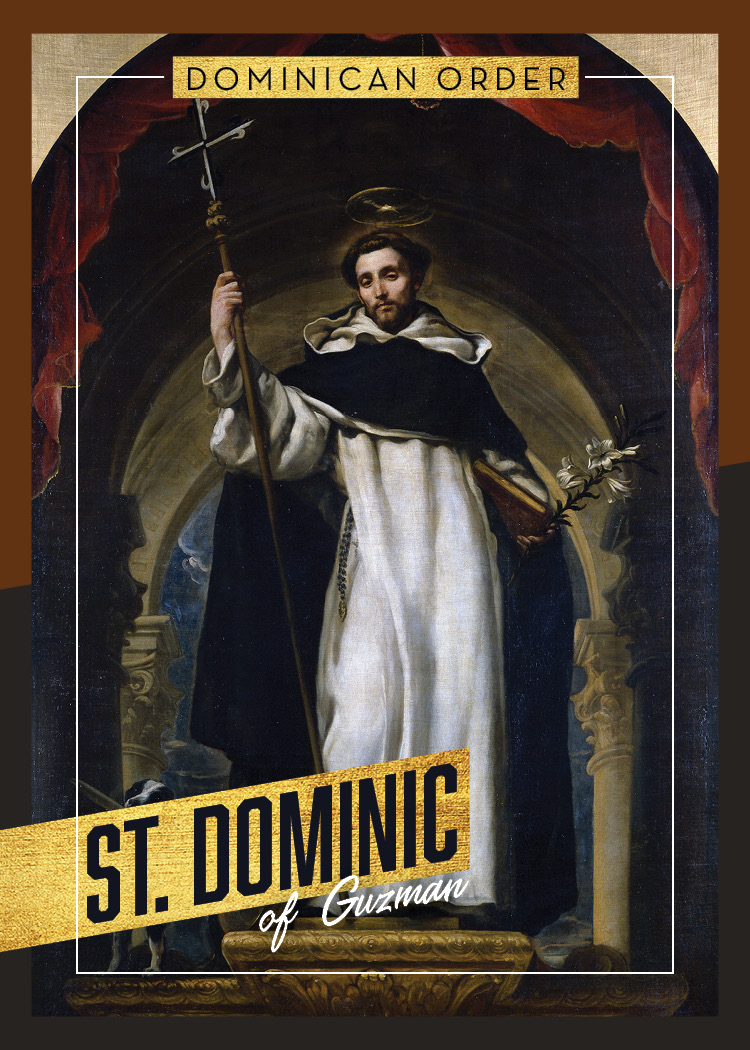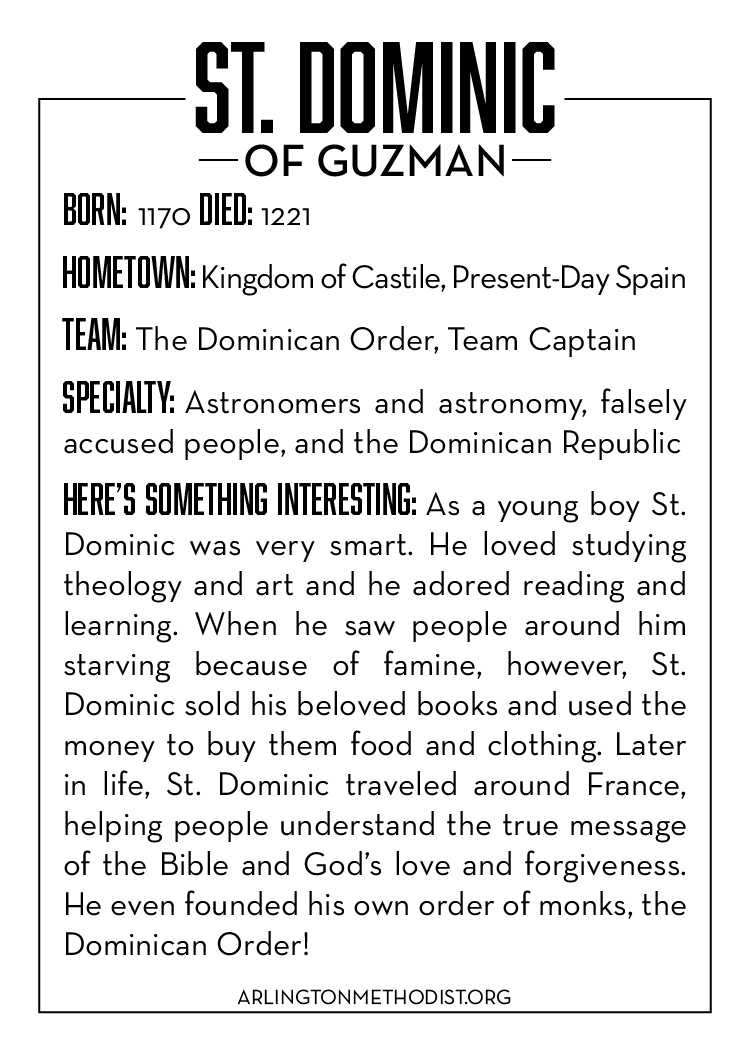 Prayer: Holy God, sometimes you ask me to sacrifice parts of my life and it's hard to do. Help me to trust you more, and to be more willing to give everything in my life over to you. Amen.
Challenge: Tonight, step outside and look up! Notice the night sky, and all that God has made. God's creation is huge - infinite! Enjoy some time in the quiet if you're alone, or have fun talking about the sky with your family if you're not.
---
Day 5: St. Paul the Apostle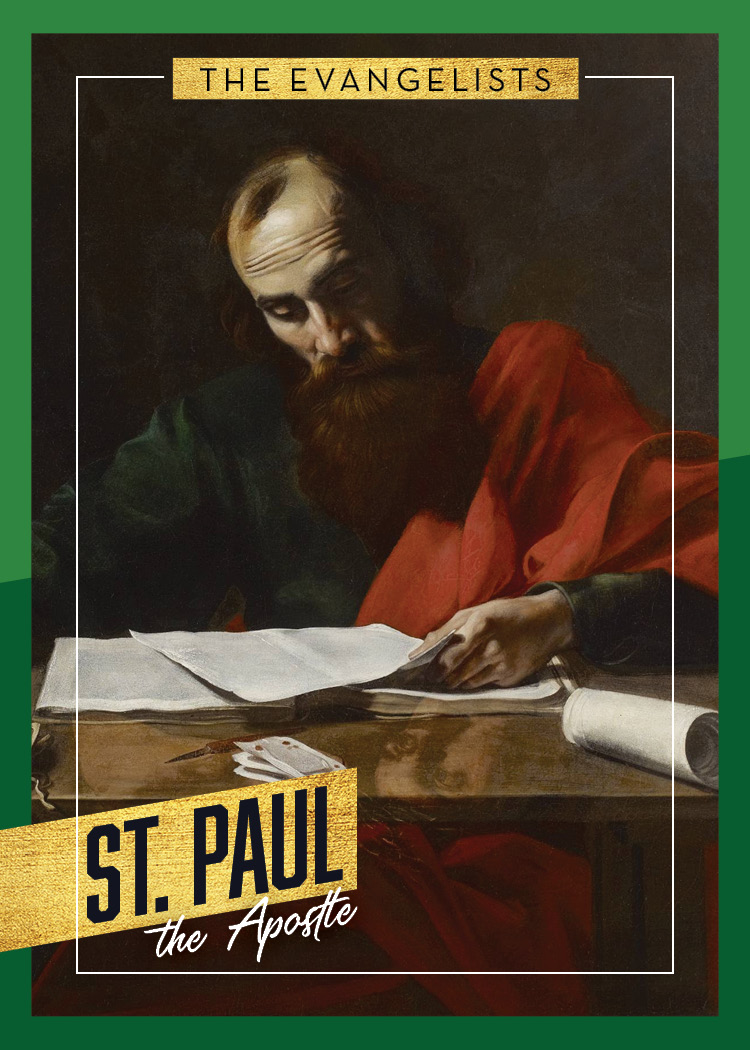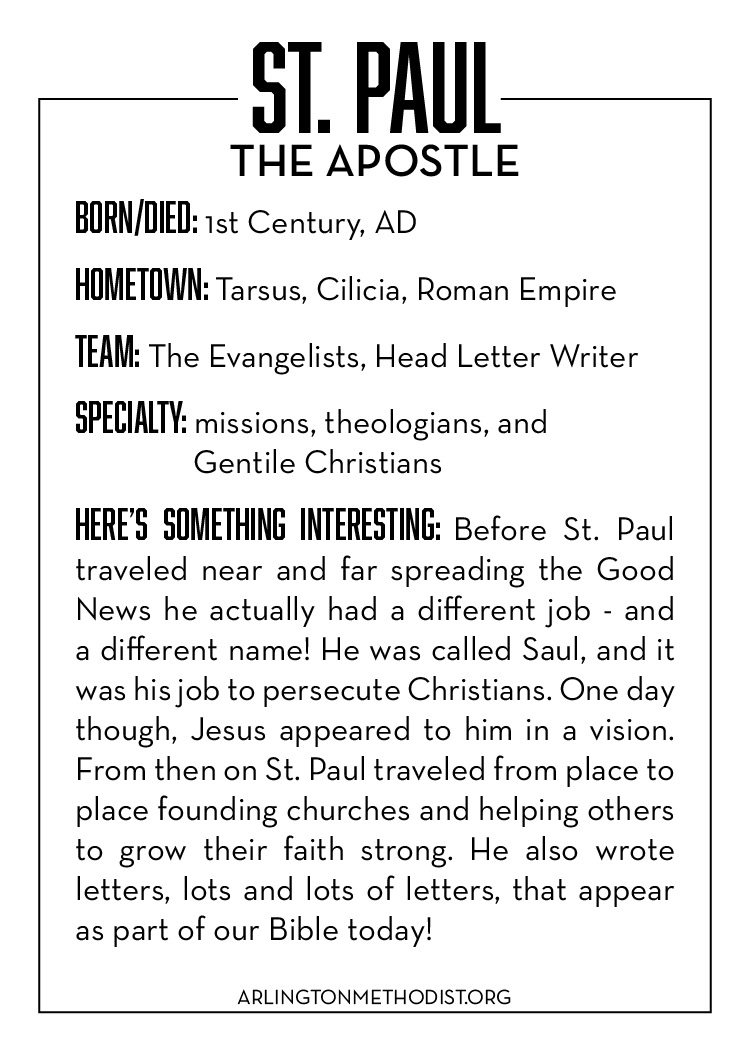 Prayer: God Almighty, you knew me before I had a name, before I was born, and you still know me today. You've called me to do your work, and I trust in you. Amen.
Challenge: If you are leaving the house today, pray for the people and places you see along the way. At the end of the day, write a letter or an email to someone just letting them know how your day was!
---
Day 6: St. Anthony of Padua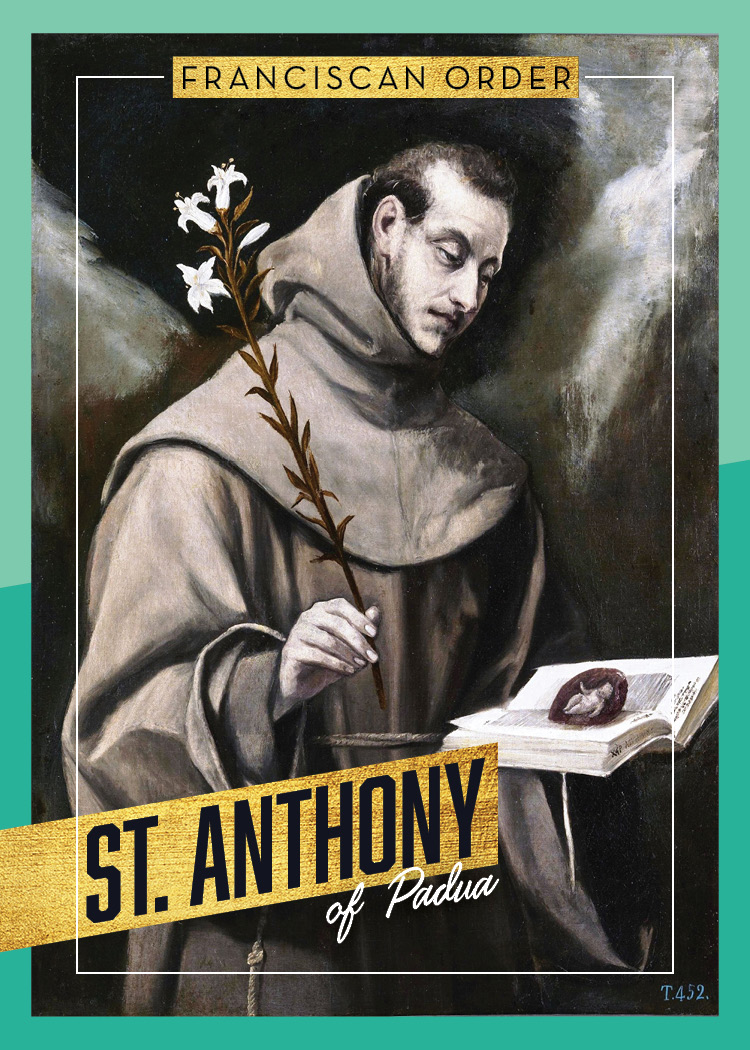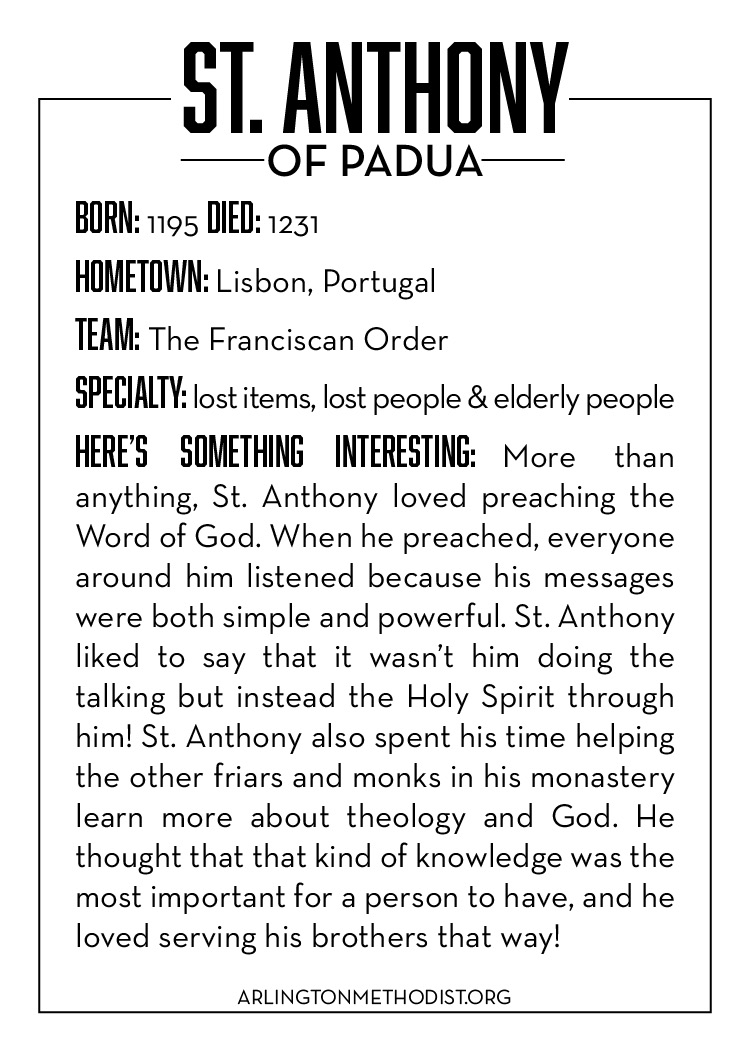 Prayer: Proclaiming God, give my words power, and help me use them for your glory! I want to honor you with the way I speak, and I want your message to be my message. Amen.
Challenge: Today, find one way to share the Good News of God's love with others! Post to social media, text a friend, have a conversation with someone at the grocery store. Sharing the Word is easier than it seems!
---
Day 7: St. Augustine of Hippo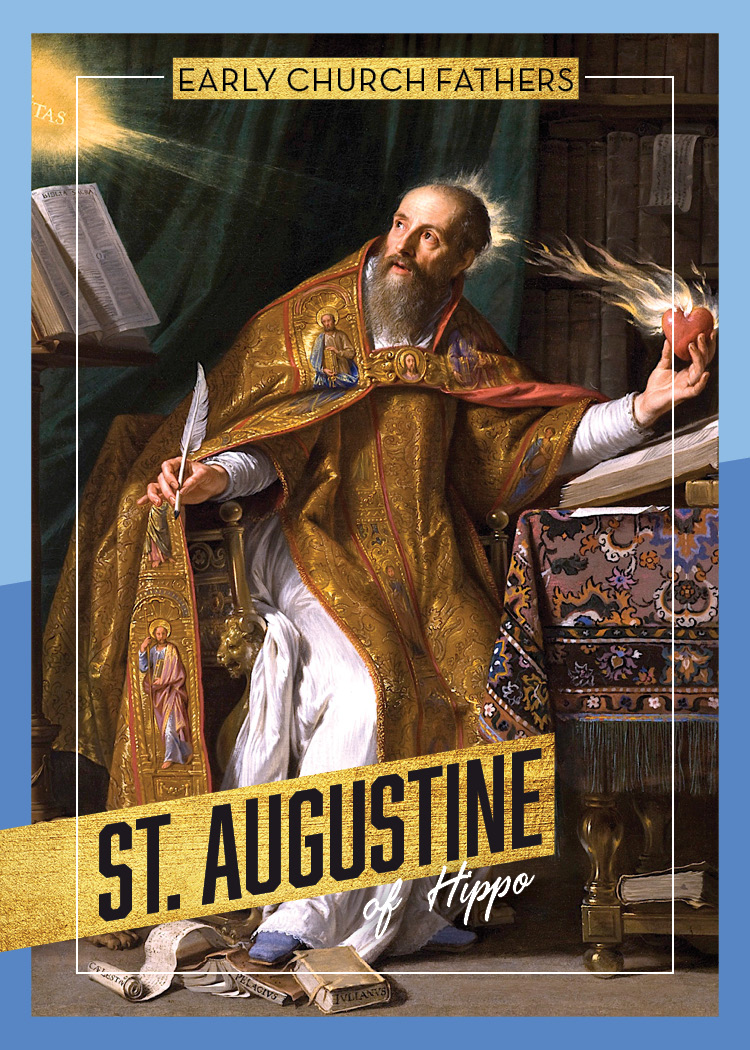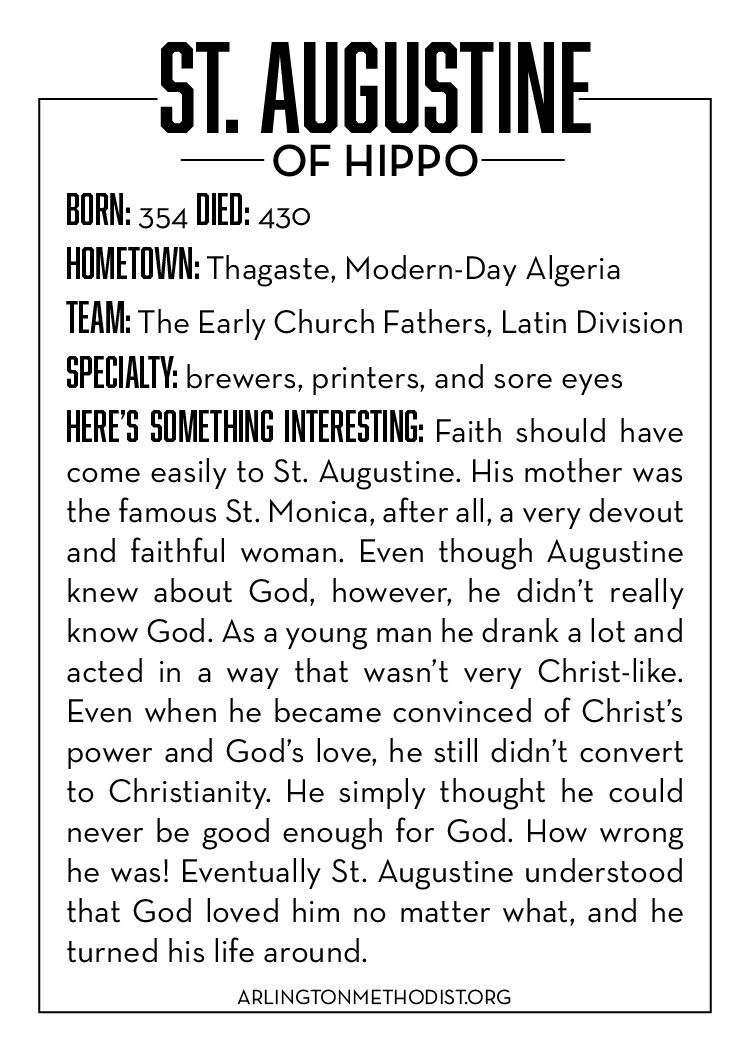 Prayer: God, thank you for loving me even when I don't feel worthy. Your love is the one thing that has never failed me, and it's because of you that I'm able to do anything at all. Amen.
Challenge: Do you know someone who might feel grouchy or unloved? Maybe there's someone you know who's been having a hard time lately. Reach out to them today, with a note and maybe even a care package (with treats and warm socks) to let them know that you see them and are thinking about them!
---
Day 7: St. Andrew the Apostle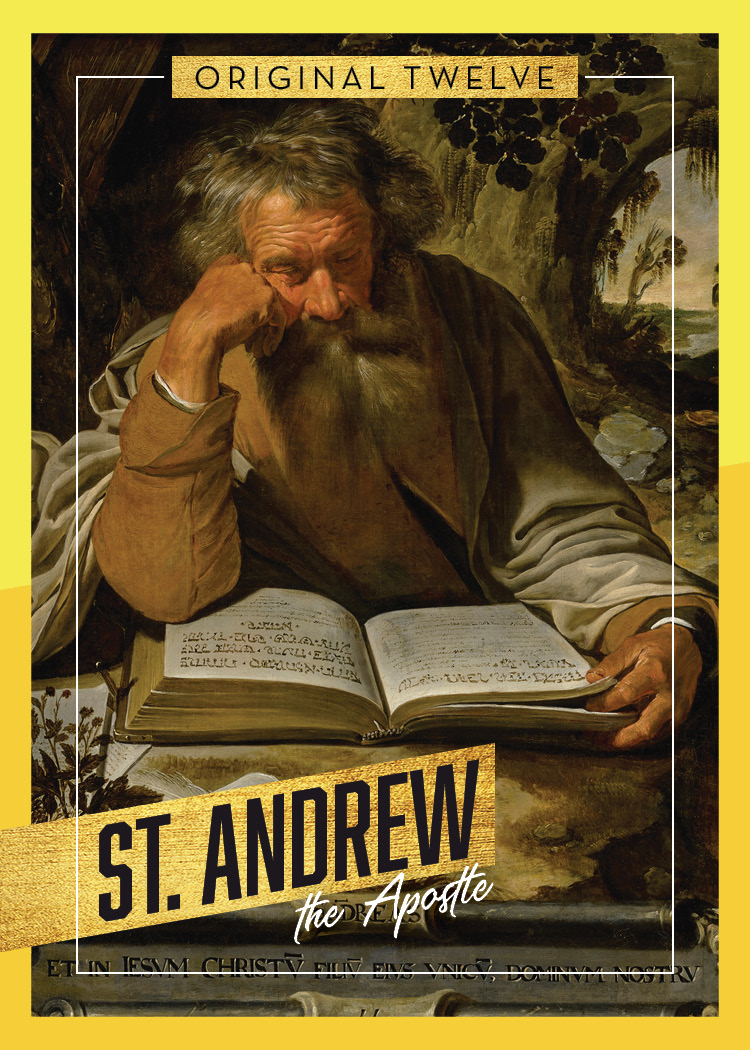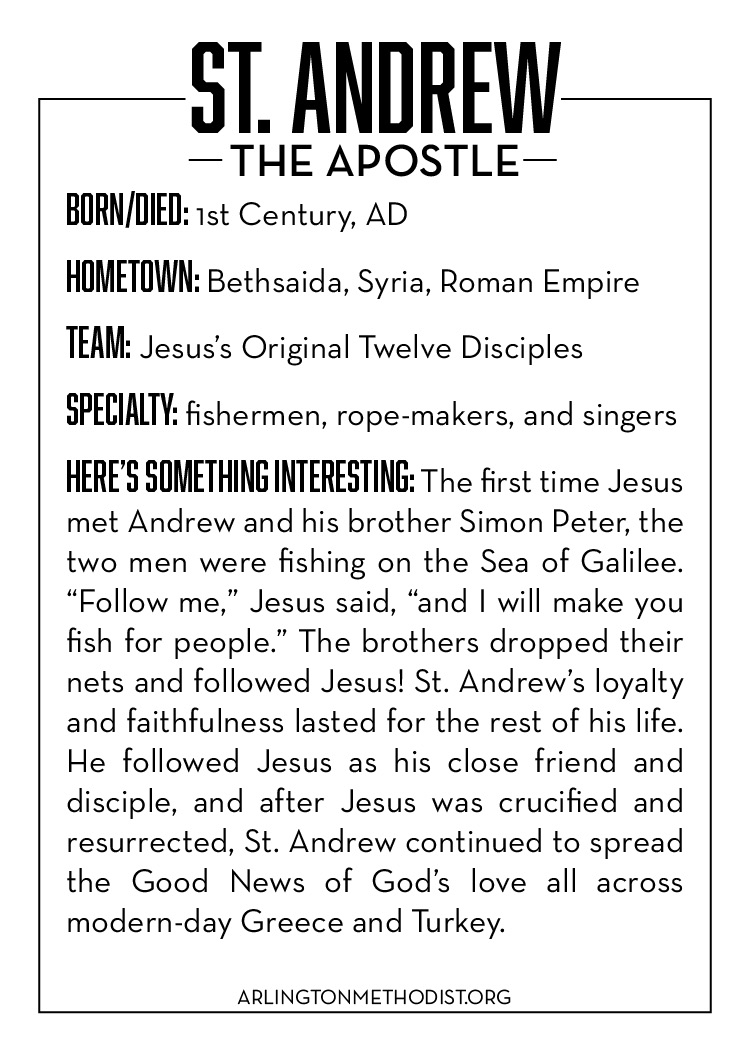 Prayer: Christ Jesus, how can I be a fisher of people? What can I do to follow you today? Make my hands useful to you, and help me spread your Good News. Amen.
Challenge: Tell someone - anyone - about Jesus today! This can be as simple as saying "Jesus loves you!" or an act of kindness in the tradition of the saints.