In early September, Sean Hale, Director of Music & Worship, was looking for potential participants in the First UMC Arlington Youth Orchestra. "I knew that our student ministry had grown quite a bit over the pandemic and I wanted to make sure our new students knew about the upcoming opportunity to play," he said.
Fellow staff member, Betsy Spencer, Director of Family Ministries, told Sean that she was looking for a used violin so her daughter Libby could join in. Libby is a very busy sophomore at Arlington High, but her school schedule wouldn't allow her to play with the school orchestra. "I have played the violin since 5th grade," Libby explained. "I love that I can connect through music and have fun while doing it." Betsy was looking at renting an instrument or perhaps finding one at a pawn shop.
Meanwhile, over at First UMC Forth Worth, musician Ann Dunkin felt that she had "plateaued" in her rehearsal of the violin and decided to donate her instrument. "I was realistic (about the time I'd need to develop)," she admitted. "The violin is not for everybody." So, on Labor Day, Ann emailed Sean Hale to see if anyone in the Youth Orchestra might need a violin. Ann thought of First UMC Arlington because she had previously connected with Arthur Busby, our Director of Youth Orchestra.
Sean received Ann's email and contacted Libby's mom Betsy minutes later. Betsy was giddy with excitement. Sean was in disbelief. Within 24 hours, Libby had a violin for the first Youth Orchestra rehearsal of the fall season on Wednesday, September 8.
Ann said, simply, "It was a God thing." "I absolutely saw God working when I heard about the violin! It is so amazing how God works," Libby added.
What makes the connection even more remarkable is that Ann is connected to Betsy's family through Betsy's mom, Rev. Nancy Allen. Ann had participated in the choir at Arlington Heights UMC when Rev. Allen pastored there. But Nancy was not aware of the violin miracle as it was happening. But, on Sunday, September 12, as a surprise to Libby, her mom and dad and Nancy and her husband were in the congregation for the "violin debut." Tears and smiles abounded. "What a surprise and blessing it was for all of us!" Nancy exclaimed.
Youth Orchestra director Arthur Busby said that Libby is doing just fine. "She catches on quick," he said. "She's a little rusty since she hasn't played during pandemic and it can be kind of scary to come back. You just have to find what closet the skills are hidden in (and invite them to come back out)."
Rev. Dr. Chris J. Hayes saw God's providence in action in this unexpected act of generosity. "Providence is about the grace and love God offers us along the journey of life," he said. "God brings people, experiences, and the very presence of God through the power of the Holy Spirit to walk alongside us as we journey."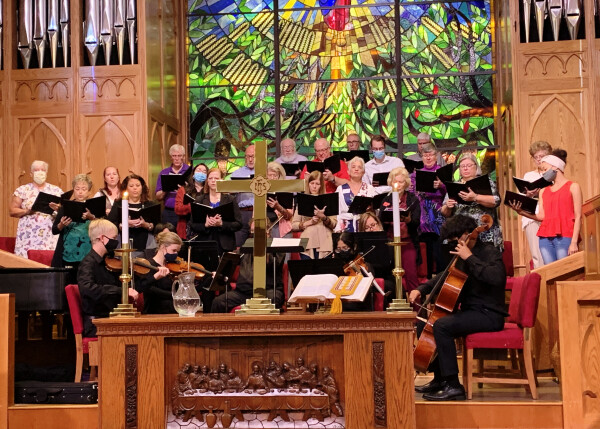 The Youth Orchestra plays at the 11 am worship service once a month during the school year. The group, open to youth and adults who play string, woodwind or brass instruments, rehearses on Wednesday evenings. The Youth Orchestra will play again on Sunday, November 14. For more information about the music program at First UMC Arlington, contact Sean Hale.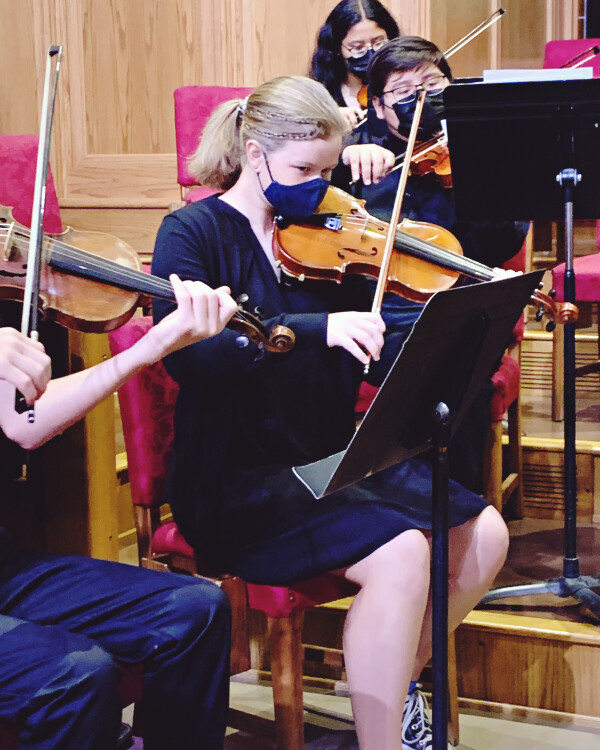 Arlington High School sophomore Libby Spencer plays violin with the First UMC Arlington Youth Orchestra.